Post # 1
What OOT bag would be complete without a couple bottles of water? But plain ol' bottled water without custom labels? Not on my watch! I knew that I wanted to add cute custom labels to my bottles, and debated doing them myself. After some thought, however, I decided that I need to bring in professional reinforcements on this one. Our hotel has fridges in each room, so I figure that folks might toss their bottles in there. Once the condensation starts, I knew that my little inkjet labels would melt, slide, and run into a drippy mess.
I looked at several sites that print custom labels and most of them had some pretty decent pre-designed templates. Because I have such a specific design concept, however, I really wanted to find a company that would print completely custom designs. I decided to use a company called Bottle Your Brand.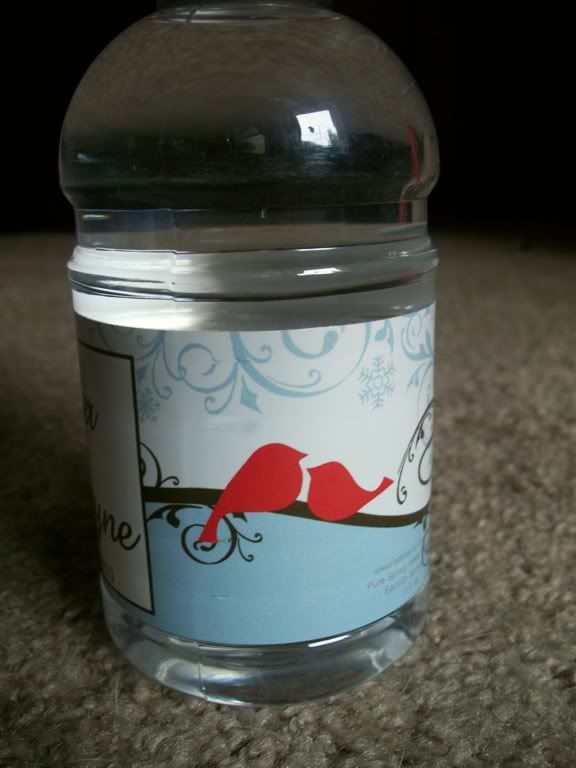 I opted to have the company apply my labels to the bottles and send the whole shebang at once. In hindsight, I should have just ordered the labels, because my order (bottles + labels) was approximately $30 before shipping. Just ordering the labels would have been under $10. With added weight of the water bottles, shipping was also more expensive, so note to self: Duh, just order the labels and spend the 20 minutes adhering them yourself, ding dong.
But, I will say, I'm very happy with the results. The labels turned out great and the cute little 8 oz. bottles will fit perfectly in our gable boxes. I loved being able to create custom designs that corresponded perfectly with my other DIY projects… all the way down to the right font and cute little red lovebirds.